Providing results in more than 80 languages, Lingoes Translator is a dictionary and multilingual translation tool combined in one that grants its customers the ability to look for dictionaries and

translations between French, English, Spanish, German, Italian, Korean, Chinese, Japanese, Swedish, Turkish, Greek, Vietnamese, Arabic, Polish, and more.
Lingoes artistically expands cross-language design and open dictionary management while offering the full functionality and features of true marketing software. It offers a wide range of useful functions, such as text translation, cursor translation, screenshot text capture, index list group, pronunciation guides for all languages, and database access for a large number of online dictionaries and translation tools. A large collection of free dictionaries and thesaurus are listed for free downloads.
Discover Lingoes' ground-breaking features:
●  Cross-Translation for 80 Different Languages

Lingoes enables cross-language translation, in addition to providing dictionaries and text translation in more than 60 different languages. Esperanto is one of those languages, along with French, English, Russian, German, Spanish, Portuguese, Swedish, Vietnamese, Italian, Japanese, Dutch, Chinese, and Korean.
●  Translating Text into More than 22 Different Languages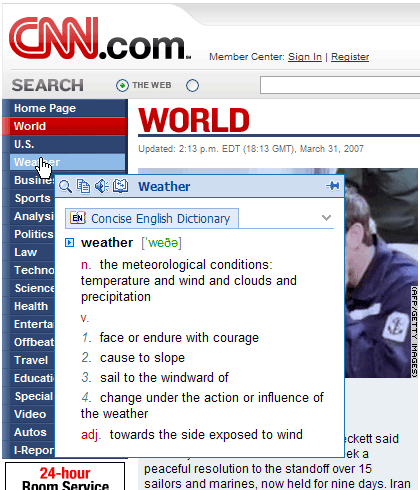 The Lingoes online translation service incorporates some of the world's most sophisticated text translation engines, such as Prompt, Systran, Yahoo, Cross, Google, and Altavista, among others, which makes text translation incredibly simple. To comprehend texts in languages you are unfamiliar with, you can freely choose the one best suited for your translation and analyze the distinctive results produced by these search engines. The languages include French, Spanish, English, Italian, German, Portuguese, Dutch, Swedish, Korean, Japanese, Chinese(T), Arabic, and Chinese(S), among others.
● Ctrl + Right Mouse Command to Activate Cursor Translation Mode
Using the cursor translation feature of Lingoes, you may translate words anywhere on display. All you need to do is hit the Shift key, and the computer will instantly recognize the words the cursor has selected and display the results on your screen. Languages like French, Chinese, English, Russian, German, Spanish, Japanese, Korean, and many more, can now be translated in an instant, thanks to the cursor translating mode.
● Creative Zoned Word Translation
Lingoes incorporates a cursor translator, dictionary searches, and smart word translation by a creative zonal translator. It will translate material from nearly 23 different languages into your native tongue, depending on the sentence or word you select.
● Pronunciation of Words and Texts
To assist you in learning word pronunciations, Lingoes provides the functionality of text and word pronunciation based on the most modern Text to Speech (TTS) engine.
Pros and Cons of Lingoes
Pros
The online translation service provided by Lingoes incorporates the most cutting-edge text translation engines in the world, such as Systran, Prompt, Cross, etc., which makes text translation incredibly quick and simple.

You can choose to use online dictionaries and encyclopedias like Wikipedia if you wish to learn more terms besides those found in local dictionaries.

You can also select from a wide variety of helpful tools under the Appendices menu, including a currency converter, time zone converter, weights and measures converter, the periodic table, calculator, and much more.
Cons
Lingoes lacks the ability to automatically fix typos or provide suggestions.

Lingoes provides dictionaries on its website. However, it doesn't support a significant number of formats.
Verdict
To summarise, Lingoes is a simple, user-friendly dictionary and text translation program which provides assistance in several languages. This free application is still good to try even though its online assistance is currently unavailable (which may just be temporary).
Review by Adi Barbu
With over 18 years of experience in creating web portals and online communities, developed GraphicsFamily to provide the world with best graphic resources and to encourage creative designers all over the world to learn, earn, share, and grow.

BEST SOFTWARE AWARD by GRAPHICSFAMILY
COPY THE CODE AND USE IT EVERYWHERE:
<a href='https://graphicsfamily.com/lingoes-translator/' target='_blank'><img src='https://graphicsfamily.com/wp-content/uploads/2022/12/Best-Software-Award-by-GraphicsFamily.png'></a>