7GIF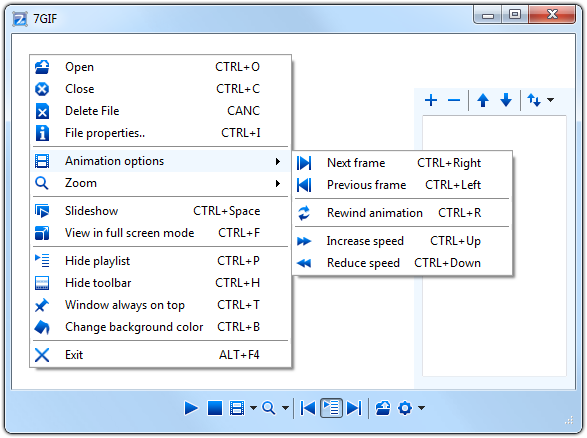 7GIF is a no-cost Windows program that lets you watch and play animated GIFs without having to download any other software. An animated GIF may be seen and played quickly and easily using this lightweight and user-friendly application. The program has an intuitive interface and several controls that make it simple to watch and play animated GIFs. These controls include pausing, rewinding, and looping the animation.
Dragged and dropped animated GIFs can be opened and viewed in the program's interface. Moreover, it has a file explorer for accessing local GIFs for viewing. The software also has a function that lets you grab individual frames from an animated GIF, which is handy for making GIFs out of videos.
The features of 7GIF are:
7GIF allows users to open and view animated GIFs by simply dragging and dropping them into the software's interface, it also provides a file explorer that allows users to browse and open GIFs from their computer.
The software includes controls that allow users to play, pause, rewind, and loop the animation. This feature makes it easy for users to view and play animated GIFs. 
7GIF includes a feature that allows users to view GIFs in full-screen mode, this feature is useful for users who want to view animated GIFs in a larger format.

The software also includes a feature that allows users to extract frames from an animated GIF, which is useful for creating GIFs from video files. 
7GIF supports the ability to set a GIF as desktop background, which is a nice touch for users who want to personalize their computer.
Lightweight and Easy-to-use
The software is lightweight and easy-to-use, it doesn't consume a lot of system resources and runs smoothly. It also has a small footprint and doesn't take much space on your hard drive. 
Pros and Cons
Pros
User-friendly interface

Straightforward setup process

A wide range of functionalities
Cons
Limited capabilities

Limited image editing option
Verdict
7GIF is a highly specialized tool that may be appreciated by a wide range of users. GIF creators will particularly benefit from its features, as it enables them to have a more precise control over the preview of their GIFs. Additionally, people who enjoy using GIFs will also find this application beneficial for a more seamless viewing experience. Overall, it's a small and inconspicuous utility that occupies minimal space and excels in its particular function.
Review by Adi Barbu
With over 18 years of experience in creating web portals and online communities, developed GraphicsFamily to provide the world with best graphic resources and to encourage creative designers all over the world to learn, earn, share, and grow.

BEST SOFTWARE AWARD by GRAPHICSFAMILY
COPY THE CODE AND USE IT EVERYWHERE:
<a href='https://graphicsfamily.com/7gif/' target='_blank'><img src='https://graphicsfamily.com/wp-content/uploads/2022/12/Best-Software-Award-by-GraphicsFamily.png'></a>