DNS Jumper – A Free DNS Changer

A few years ago, reducing the amount of time your Internet browser spends accessing web URLs and thereby expediting travel, in general, appeared to be Holy Grail. Utilizing specialized instruments,

there are various methods to optimize this procedure today.
DNS Jumper is one of those instruments that can assist you in determining the optimal DNS to reduce the amount of time that each webpage takes to load. This little application has a lot of useful functions that are easy to use and can be accessed rather easily.
In a sense, DNS functions as the Internet's address book. It's what enables us to visit websites with names like download3k.com rather than IP addresses. Today, DNS is undoubtedly a crucial component of website access, with tons of public DNS servers that can assist you when you need them. Here, we'll examine the DNS Jumper program, which allows users of Windows computers to swiftly switch or change DNS while on the road.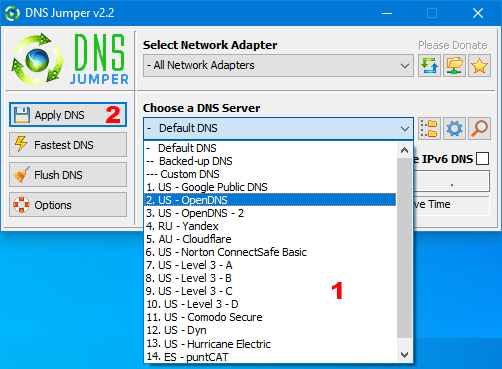 The features of DNS are discussed in detail below.
●       Portable
Being able to execute the main application by simply unzipping the package is a nice feature that doesn't require any kind of installation. After that, you can experience a way quicker Internet with just a few clicks.
The utility of this product doesn't leave any footprints in the Windows registry, which is a crucial point to make. Additionally, you may transfer it to any USB flash drive or other device and carry it with you everywhere in case you suddenly need to discover the best DNS.
●       Several DNS Services to Choose From
This application supports a wide variety of free DNS providers, and you may pick one from a lengthy drop-down list. The tool also allows you to manually enter the address of such a service, so you should be aware of that as well.
You can quickly add new entries to the list using DNS Jumper, which is a cool feature of this program. Nothing more is required than writing down the IP addresses and naming the server.
●       Load Webpages Faster
Since DNS Jumper is not intended to boost download or upload speeds, do not anticipate this happening. Instead, everything online-related, including downloads and standard web pages, should load more quickly.
●       Find the Fastest DNS Provider
It will help you find the quickest DNS addresses for your requirements and connect to them quickly, saving you the time and effort of doing it manually. It is quick and straightforward to use, even for novices.
Moreover, this tool protects children from inappropriate content by limiting the websites that might harm their brains and emotions while enabling others to access the restricted content on the Internet.
Pros and Cons of DNS Jumper
Pros
It enables speedy switching to a more secure DNS server, enhancing security.

It provides you the option of selecting a Family Safe DNS server so you can keep your children safe by blocking inappropriate websites.

It has the ability to swiftly alter your system's DNS settings.
Cons
DNS Jumper is inferior to specialized software in certain instances.

Unable to deliver personalized search results.

Does not offer a smooth transition between pre-set profiles.
Verdict

Although DNS Jumper doesn't give you the ability to accomplish anything that your system can't already do, it definitely makes it a lot more easier. It is a wonderful troubleshooting tool for both novice and experienced users that have a wide variety of built-in DNS servers and capabilities that let you compare between connection timings.
Review by Adi Barbu
With over 18 years of experience in creating web portals and online communities, developed GraphicsFamily to provide the world with best graphic resources and to encourage creative designers all over the world to learn, earn, share, and grow.

BEST SOFTWARE AWARD by GRAPHICSFAMILY
COPY THE CODE AND USE IT EVERYWHERE:
<a href='https://graphicsfamily.com/dns-jumper/' target='_blank'><img src='https://graphicsfamily.com/wp-content/uploads/2022/12/Best-Software-Award-by-GraphicsFamily.png'></a>