Apowersoft Free Audio Recorder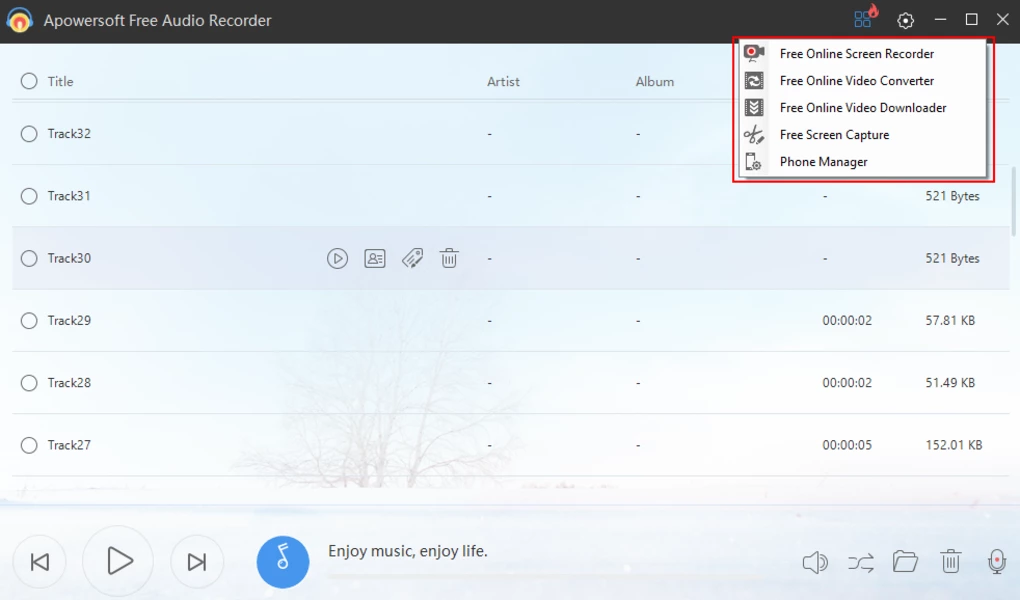 Apowersoft Free Audio Recorder is simple and easy-to-use software designed specifically to assist users in simultaneously recording sound from the system and a microphone. It has a ton of user-friendly features that anybody can use, even those with no prior experience using similar programs.
●       Record your Voice or System Sounds
Apowersoft Free Audio Recorder is a great audio editing software similar to a dictaphone in function. You may use a microphone to record any sound from the outside world or from your computer, including your own speech. The system, microphone, or both can be selected as the input method for the program. There are no recording time restrictions with this application. Recordings can be started and stopped whenever you choose. Apowersoft Audio Recorder also comes with an audio converter to make sure you can receive the audio format you want.
●       Edit the Track Information
Apowersoft Free Audio Recorder
●       Very Simple to Use
After a quick and uncomplicated setup process, you are welcomed by a familiar UI where you can start by choosing the audio input from the three aforementioned options. The recording starts the moment you press the Start button. When you stop it, a new file in MP3 format will be created automatically and saved to a predetermined location. You may then click a button to access the new file in Explorer.
The Apowersoft Free Audio Recorder interface is attractive, which is fortunate given how frequently unattractive such programs are. The interface's bottom contains various settings and a monitor in the middle that displays the time (option to delete the record list, rename files, conversion option, reading, etc.).
●       Skip the Silence
Aside from offering free audio recording, it also provides you with the option of skipping any silence that occurs while recording. This is particularly helpful if you're recording a lengthy audio file with several blank spaces. In addition to offering the fundamental tools for computer audio recording, this free application also enables you to schedule tasks by selecting the Start time and the Stop time beforehand.
●       Program Setting
As far as program settings are concerned, it is possible to change the application's default system sound and microphone source, as well as the output format, from MP3 to OGG, WMA, WAV, or FLAC. Other software options include the ability to remap keyboard keys for starting, pausing/resuming, and halting recordings.
●       Multilingual Support
Apowersoft Free Audio Recorder produces high-quality audio tracks, supports several languages, and consumes little CPU and memory. There were no error dialogs shown, and the program did not freeze or crash in either of our tests.
Verdict
To sum up, Apowersoft Free Audio Recorder does the work if you're searching for an easy-to-use software program to record sound from the system, microphone, or both simultaneously (in addition to having a few useful features up its sleeve). It is a free recording program worth spending some time getting to know. It is free, simple to use, and has no time restrictions.
Review by Adi Barbu
With over 18 years of experience in creating web portals and online communities, developed GraphicsFamily to provide the world with best graphic resources and to encourage creative designers all over the world to learn, earn, share, and grow.

BEST SOFTWARE AWARD by GRAPHICSFAMILY
COPY THE CODE AND USE IT EVERYWHERE:
<a href='https://graphicsfamily.com/apowersoft-free-audio-recorder/' target='_blank'><img src='https://graphicsfamily.com/wp-content/uploads/2022/12/Best-Software-Award-by-GraphicsFamily.png'></a>