If you are a beginner in the graphic designing or digital art field, then using a program to help you start is the best course of action. As a learner, Photoshop looks intimidating, therefore, here are a few options for programs that you can download and work your way up with, so you can master professional multimedia software.
If you're looking for a photo editor and do not wish to splurge on applications such as Photoshop or Procreate, then Paint.Net is your best option. This software has proved to be one of the most popular for those working on Windows iOS, as it is easy to learn and improves your photo quality through proper correction without compromising resolution.
With a customizable interface and easy to edit layers, you can take advantage of this software to edit at a multi-layer level. Though this software won't give you the option for deeper photo manipulations and retouching such as Photoshop does, you can use it to give you pictures without imperfections.
Pros

Easy to use

Multiple plug-ins, effects, and functions

Clear interface

Tutorials and online consulting are available

Option to save in different image formats
Cons
Limited brushes

No text correction
Paint.Net, or 'Paintdotnet' was inspired by MS Paint, and though it was a college student's creation, it has quickly gained traction and become a popular photo editing tool. It is a great photo editor that is free and multifunctional, which makes it a great solution for your photo editing requirements. Paint.Net is created by the .Net framework and is exceptionally useful for the following reasons.
Convenient Interface
Paint.Net has a user-friendly interface, which even novice photo-editors can use. The interface is simple and doesn't have anything too overwhelming or difficult to understand. When compared to GIMP, it is rather simple but had a standard photo editing tool appearance. All tools are present in the app, in an icon on the left side of the screen, with additional tools available in dropdown menus. Paint.Net also records your changes and edits in the dropdown 'History' menu, so you can undo them along the way if you wish to.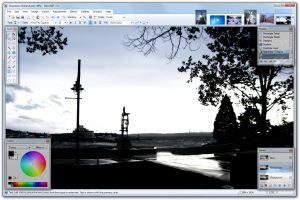 Photo Editor Features
Paint.Net offers you the same features that you can get with Photoshop or PhotoScape; featuring layers or allowing you to change specific areas of your picture. It also lets you change the hues, curves, brightness, adjust contrast, and saturation levels. Paintdotnet also has blurring and sharpening tools as well as effects such as embossing and distortion. The software is also great for removing redeye in pictures. You can also use a simple text editor, high-quality zoom, gradient, and clone tool to help deal with grainy pictures.
Added Plug-ins
Another reason why Paint.Net has become such a popular tool is that, in addition to filters and color correctors, it also supports user-made plug-ins, to give it even more features. You can enjoy brushes and tools that are identical to those in Photoshop and other popular photo editing software.
Verdict
Paint.Net is a great alternative to expensive and hard-to-operate photo-editing applications such as Photoshop and GIMP. Though it is simple, it also hosts advanced features to help improve your images. Though this paint net review shows that it is great for editing with different levels, curves, and supports plug-ins; it is not the best software for professional use, nor can it replace Photoshop.
Review by Adi Barbu
With over 18 years of experience in creating web portals and online communities, developed GraphicsFamily to provide the world with best graphic resources and to encourage creative designers all over the world to learn, earn, share, and grow.
BEST SOFTWARE AWARD by GRAPHICSFAMILY

COPY THE CODE AND USE IT EVERYWHERE:
<a href="https://graphicsfamily.com/paint-net/" target="_blank"><img src="https://graphicsfamily.com/wp-content/uploads/2022/12/Best-Software-Award-by-GraphicsFamily.png"></a>